The Waterbury Festival Playhouse -- Central Vermont's only Semi-Professional Theater
Don't Dress for Dinner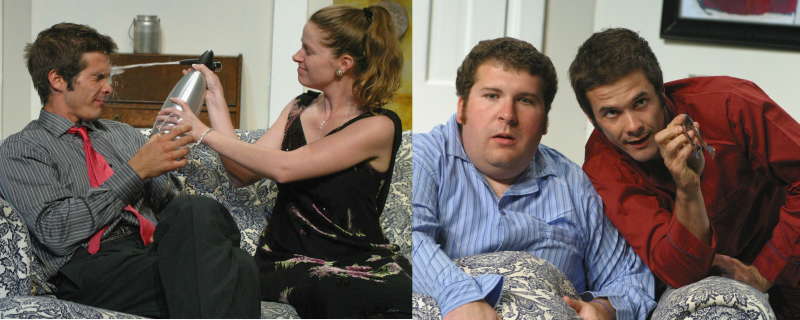 Written by Marc Camoletti, Adapted by Robin Hawdon
Shows (Evenings at 7:30pm):
Thu. 9/29 - Sat. 10/1, Wed. 10/5 - Sun. 10/9, Wed. 10/12 - Fri. 10/14
Note the Special Sunday show 10/9

This boulevard comedy was a smash hit in Paris, where it played for over two years, and in London, where critical acclaim greeted the Apollo Theatre production. Bernard is planning a weekend with his chic Parisian mistress in a French farmhouse. He has arranged for a cordon bleu cook to prepare gourmet delights, is packing his wife Jacqueline off to her mother's, and has even invited his best friend to provide the alibi. It's foolproof; what could possibly go wrong? Suppose Robert turns up not knowing why he has been invited? Suppose Robert and Jacqueline are secret lovers? What happens if the cook is mistaken for the mistress and the mistress is unable to cook? An evening of hilarious confusion ensues as Bernard and Robert improvise at breakneck speed.
The Cast

Bernard
Justiin Rowe
Jacqueline
Sarah Gibson
Robert
Marcel Freda
Suzette
Sarah Venooker
Suzanne
Patricia Preston
George
Todd Michael Wheel

The Crew

Director
George Pierce
Assistant Director
Kathy Barickman
Set Construction & Design
Rick Loya
Lighting/Sound Operator
Tim Schein
Kathy Barickman
is back for her second season at the Waterbury Festival Playhouse. After having so much fun with Unnecessary Farce, she can't wait to see what's in store for this year. When not playing with WFP or the Valley Players, Kathy can usually be found either working in Williston as a microbiologist, singing in choir at St. Michael's College, or at home in Underhill with her husband, Jake, and their menagerie. She has her dad to thank for passing on the theater bug MANY years ago.
Sarah Gibson
recently returned to her native Vermont after spending a year and a half in London where she obtained her Master of Arts in Acting from East 15 Acting School. This is her first show with Waterbury Festival Playhouse, and she is excited to be working with such a fun, talented group of people. Sarah is a mildly obsessed Duke basketball fan, regularly eats whole lemons, and loves travelling on trains. She would like to thank her cats (who do not support her theater endeavours and would prefer her to be home petting them) and her family for their vast amounts of love and support.
Marcel Freda
has been acting and directing in central Vermont for the past 15 years. As director of the Peoples Academy High School theater program for the past six years Marcel, along with his devoted group of high school actors built what has been heralded as "...one of the best drama programs in Vermont." They have twice represented Vermont at The New England Drama Festival. They most recently did so this past spring with their spirited production of Moliere's "Scapin". While directing and teaching has quickly become a passion of Marcel's, acting is in his blood. He covets his opportunities to get on stage and perform. For the past six years (Six? Yikes!) the WFP has been his chance to do so. Marcel is apparently allergic to free time so, when he's not acting or directing he is working in a variety of different ways for The Governor's Institutes of Vermont. His favorite color is purple... like a royal purple... NOT violet...PURPLE.
Rick Loya
had worked with George and Ginger on many productions in the past but, this is second session with the Waterbury Festival Playhouse.
Set Design and decoration has been passion of Rick's for over 20 years now. Also enjoying the opportunity to take the audience to another time and place and regarding the set as another character in the performance.
His professional career has been in the custom sign business as a designer sculptor and pictorial artist . Currently he runs his own business offering a "broad brush" line of artistic services including fine art and graphic works to faux finishes.
Sarah Venooker
has a BA in Theater & Performing Arts, and is pleased to be back on the stage at the Waterbury Festival Playhouse! She would like to thank her parents and siblings for fostering her imaginative strangeness, and her Pinecone for his patience, support and his joy in sharing her obsession. Thank you, the audience members for giving us your time this evening, it is precious, and enjoy the show!
George Pierce
continues to enjoy working with some of the most creative and talented artists in the area, not the least of which is his wife Ginger. He especially enjoys the regular patrons who have begun to make the Waterbury Festival Playhouse one of their regular theater destinations. You can find him most nights in the Lobby sharing stories of past show with the regulars, and meeting the new people who may join the regular ranks.
Patricia Preston
first appearance on stage at age 5 in Showboat and was a catalyst to a lifelong love of theatre. Vermonters may recognize her from performances in UVM theatre programs, Chandler Music Hall productions, state festivals, and Nora Jacobson's movie Nothing Like Dreaming. She is thrilled to have this opportunity to be back onstage after a brief hiatus and would like to thank her family for their unwavering support and encouragement.
Justin Rowe
is a native Vermonter who has performed in Vermont, Boston, and New York. No other places. He's most often singing when onstage, with "Into the Woods", "Beauty and the Beast", and "The Last Five Years" being some of the most memorable. He is thrilled to be acting in Vermont again, and for the first time at the Waterbury Festival Playhouse. He would like to thank his family for their constant love and support.
Todd Michael Wheel
has been seen in many productions with Lamoille County Players, Champlain College Players, Lost Nation Theater, Valley Players, and at the Baker Gaslight Theater in Austin, TX. This, his first production here at the Waterbury Festival Playhouse is an exciting new opportunity he looks forward to.