The Waterbury Festival Playhouse -- Central Vermont's only Semi-Professional Theater
Murder's Bad but Monday can Kill You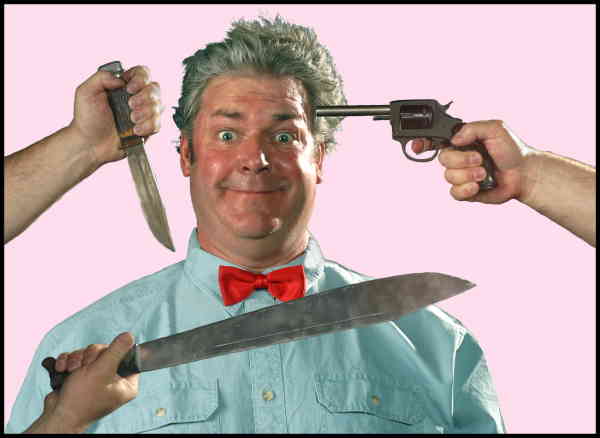 Written by Pat Cook
Produced by special arrangement with Dramatic Publishing
Shows (Evenings at 7:30pm):
Thu. 7/1 - Sat. 7/3, Wed. 7/7 - Sat. 7/10, Wed. 7/14 - Sat. 7/17


Harry's back! That's right, Harry Monday, that Sam Spade wannabe in the trench coat and gumshoes, is hot and on his latest case. Does he know what he's doing? Who knows? Is he over his head? Of course. Especially when its a triple homicide at the Restful Glen Psychiatric Annex. Only after he arrives does he find out that its one guy with three personalities. Who killed Jeffrey Stadtlander? Was it the congressman who, in a crisis, becomes Edgar Allan Poe? Or maybe it was the librarian who runs hot and cold? Or what about the mailman who has more personalities than he ever had on his route? "Clues are falling like cigarettes in the boys' bathroom," he says as he soon finds himself committed and not just to the case. This wise-cracking whodunit will have you guessing until the final red herring or perhaps Harry's goose is cooked.


The Cast

Harry Monday
Adam Cunningham
Dr. June Heidleburg
Judith Mathison
Officer Brogan
Walt Levering
Maxwell Lansing
Jeff Maclay
Clarence Vespers
Nellson Moore
Kathren Halifax
Raquel Aronhime
Polly Boone
Ginger Pierce
Cynthia Andover
Vivian Jordan
Sigmund Spence
Bob Carmody
Diane Tyler
Krista Cheney

The Crew

Director
George Pierce
Costumes
Catherine Vigne
Lighting/Sound Operator
Tim Schein
Raquel Aronhime
is happy to be back this season for a second show with WFP, and is enjoying playing a slightly more mischievious character. Since moving to Burlington from the DC area in 2001, she has performed with both the Stowe Theatre Guild and Burlington's Theatre on a Shoestring. Raquel lives in Burlington with her supportive and loving hubby and line-study partner, Scott, and two wonderful lunatics of their own, Eva (7) and Sammy (4).
Bob Carmody
previously appeared as Merv Kant in "The Sisters Rosenzweig". He also presented Thor in Stowe Theater's "Mornings at Seven" and was in Shellburne Players, "The Rainmaker" as the Sheriff, Partridge in "Tom Jones", Nonno in "Night of the Iguana", Arnold in "A Thousand Clowns" and Roy in the "Odd Couple". Bob resides in Charlotte with his lovely wife Mary and daughter Tori, Willow the dog and Whacko the cat
Krista Cheney
is a native Vermonter and lives in St. George with her dog, Weasel Bean. She has dabbled in theatre for the past ten years, performing with the Essex Players, Lamoille County Players, Shelburne Players, and Valley Players. Krista is a fine-art photographer, dressage rider, and baker of thoroughly evil desserts. She enjoys camping, kayaking, and hiking with Weasel, and they are currently working on hiking the Long Trail end-to-end in sections. Only 160 miles to go!
Adam Cunningham
is making his third appearance with the WFP. Last summer he played Lawrence Garfinkle in WFP's Other People's Money. Prior to that in Wait Until Dark as Mike Talman. He also played Richard Roma in Burlington Waterfront's production of Glengarry Glen Ross and Saul Kimmer in Vermont Stage's production of True West. He has also appeared in several local TV commercials. Favorite roles from his New York days include the title role in Richard III, Claudius in Hamlet, Tony Raft in Beautiful City, Bradley in Buried Child, Jake in A Lie of the Mind, King Henry VIII in A Man for All Seasons, Jack Worthing in The Importance of Being Earnest, Norman in Round and Round the Garden, Leonard Vole in Witness for the Prosecution, Hal in Loot and Vince Fontaine in Grease.
Vivian Jordan
lives in Hinesburg and is mega-happy to be back on the WFP stage, having portrayed Ana last summer in The Clean House. Over the decades, she has performed in theatres in NJ, NYC and VT; favorite roles (besides Ana, of course) include Martha in Who's Afraid of Virginia Woolf, Evy in The Gingerbread Lady and Sr. Mary in Sr. Mary Ignatius Explains it All for You. "Playing an inmate is like going home. What fun!"
Walt Levering
has played many roles over the past ten years. In addition to his WFP credits he has played Officer Welch in "Rumors" to Lord Bedford in "Henry V." He has played with Stowe Theatre Guild, Vermont Stage Company, Lost Nation Theater, Lamoille County Players, and UVM Productions. Film credits include "Pressure Point"; "Moving Targets"; "Automatism" and "The Pursuit of Happiness" and the recently released "Disappearances". Walt founded The Windjammer Restaurant and Best Western Hotel and Conference Center in South Burlington, VT.
Jeff Maclay
is happy to be here at WFP for his fourth show in three years. He is a recent graduate from Johnson State College and has great aspirations toward owning his very own underwater squirrel farm.
Judith Mathison
is pleased to be with WFP for the first time as Dr. June Heidelberg. She played Mrs. Robinson in Stowe Theatre's Guild's "The Graduate" and Blanche in Lamoille County Player's "Brighton Beach Memoirs" and appeared in "Jake's Women". Prior to this she was in a rock/blues band for ten years. (To my mom, who passed away before Christmas, this one's for you. :) )
Nellson Moore
played Bill Coles in WFP's production of Other Peoples Money last season and is thrilled to be back. Before moving to Vermont from N.Y.C. Nellson played roles as varied as Petya Trofimov in Chekhov's The Cherry Orchard, Cecil Graham in Wilde's Lady Windermere's Fan & Robert in Sondheim's Company. Nellson's radio show Moore Music A-Z on WMRW-LP Warren 95.1FM streams live on the internet every Saturday morning from 9am-11am. He and his partner Jim are the proud parents of 2 sons, 3 cats, 2 guinea pigs, a dog and a parakeet.
George Pierce
is happy to be back for another year. The kids are growing up and leaving the house, so there should be more time for theater right? Why doesn't it seem to work out that way?
Ginger Pierce
opens her fifth season on the WFP stage. She is happy to once again be allowed to work and play with wonderful actors. Off stage she likes playing with stained glass, water colors, and growing things - plant or animal. Thanks and love to husband George who got her into this looney bin in the first place.
Catherine Vigne
is from Monkton, Vermont. She has worked on many shows in many theaters, including the Goodspeed Opera House, North Shore Music Theater, and the Breadloaf School of English. Her previous designs include the world premier of My Ohio with Vermont Stage Company, No End of Blame (PTP/NYC), The Five Hysterical Girls Theorem, In the Blood, In a Pig's Valise, Vampire (Middlebury College), and associate design for The Bewitched (Middlebury College). This is her second summer as the season costume designer with the Waterbury Festival Players.