The Waterbury Festival Playhouse -- Central Vermont's only Semi-Professional Theater
Ken Ludwig's Leading Ladies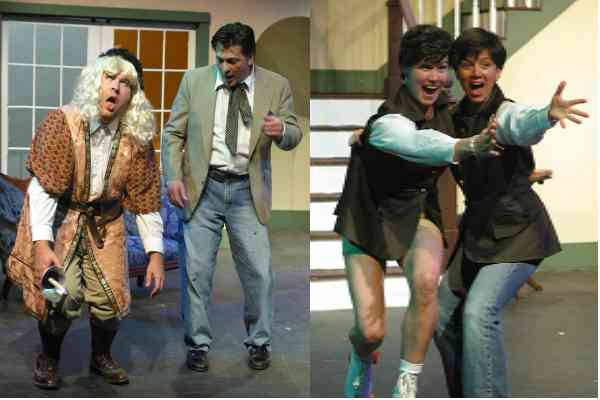 Directed by George Pierce
Written by Ken Ludwig
Produced by special arrangement with Samuel French
Shows (Evenings at 7:30pm):
Fri. 9/25 - Sat. 9/26, Wed. 9/30 - Sat. 10/3, Wed. 10/7 - Sat. 10/10




It's a Farce. There is no deep meaning here, no drama, just fun. Come and laugh. Its good for you.

In this hilarious comedy by the author of LEND ME A TENOR and MOON OVER BUFFALO , two English Shakespearean actors, Jack and Leo, find themselves so down on their luck that they are performing "Scenes from Shakespeare" on the Moose Lodge circuit in the Amish country of Pennsylvania. When they hear that an old lady in York, PA is about to die and leave her fortune to her two long lost English nephews, they resolve to pass themselves off as her beloved relatives and get the cash. The trouble is, when they get to York, they find out that the relatives aren't nephews, but nieces! Romantic entanglements abound, especially when Leo falls head-over-petticoat in love with the old lady's vivacious niece, Meg, who's engaged to the local minister. Meg knows that there's a wide world out there, but it's not until she meets "Maxine and Stephanie" that she finally gets a taste of it.
The Cast

Meg
Raquel Aronhime
Leo
James DeRienzo
Jack
Hugh Davies
Audrey
Andrea Pray
Duncan
Michael LeMay
Florence
Ramona Godfrey
Doc
Walt Levering
Butch
Marcel Freda

The Crew

Director
George Pierce
Asst. Director
Jeff Maclay
Costumes
Catherine Vigne
Sets
Ed Demler
Raquel Aronhime
lived around the globe for most of her life, before moving to Burlington for a guy and a job. She got married and went on a honeymoon during dress rehearsal week for Stowe's "My Fair Lady" in 2002, and has tried to fit in subsequent theatre roles in between giving birth to two kids. She was most recently seen as Betty in STG's "Funny Money", and as Dancer in Theatre on A Shoestring's "The Reindeer Monologues". When she isn't swinging between the euphoria and madness of fulltime motherhood, she enjoys singing with friends, or meeting with her totally-cool "Moms Group" for deep discussions and pomegrantinis. She is very grateful to her hubby, Scott for supporting her acting bug, and her wonderful children, Eva (6) and Sam (3), for indulging her absence when they don't even get to see the show!
Hugh Davies
is originally from Didcot, England and is delighted to be making his debut at the Waterbury Playhouse this summer. Recent roles include Mellersh in Enchanted April and Armstrong/Phil in An Experiment with an Air Pump. Other credits include: Antigone, Hamlet, The Threepenny Opera, Blithe Spirit, Noises Off! and Village Wooing. Hugh loves to spend as much time as he can skiing in the winter (Killington is his favorite), but in the summer still misses watching cricket with a pint of beer in hand.
James DeRienzo
is in his third production with the Waterbury Festival Players. To date he has played a father dealing with a ghost, a bisexual theater director who likes to sing in his skivvies and now a cross dressing Shakespearian wanna be. Who knows what the fourth casting will bring? He received his training at Rutgers University as well as studying comedy improvisation with the Groundlings. He is married to the very patient and understanding Alison De Rienzo, who has blessed him with two sons Max and Gus. Although the thought of walking around in heels does not excite him, he is thrilled to be involved in another production at the WFP.
Marcel Freda
is in his 4th year with WFP. Most recently Marcel appeared as Shuman in last summer's Indoor/Outdoor. When not acting in a tent, he is the director of the Peoples Academy Stage Company in Morrisville, where he and and his incredibly talented group of students recently took their original one-act comedy "The Best Man" to The Vermont State Drama Festival. He also works with The Governor's Institute of the Arts in Castleton.
Ramona Godfrey
has participated in local theatrics for over a decade now, both on stage and in film, learning several "roles" from sound to producer. She's enjoyed experiences with quality community theater groups: Woodchuck Theatre Company, Lamoille County Players, Essex Community Players, Vermont Stage, Stowe Theatre Guild, and Catalyst Theatre Company. This is Ramona's second show with the WFP and she looks forward to another quality experience. (Minus the-toad-in-the-shoe thingy...)
Michael LeMay
is very pleased to be returning to WFP for a third chance to play, and hopes that this time no lives will be in danger. He has been active in Central Vermont theater for many years, both as an actor and director. Among his favorite roles have been "Garry" in Noises Off, here at the WFP, "John Jasper" in Drood, "Renfield" in Dracula and "Joseph" in Joseph and the Amazing Technicolor Dreamcoat. Recently, Mike was finally able to be onstage in his all-time favorite musical, Man of La Mancha! He lives in Moretown with his wife, Sherry, and their animal brood.
Walt Levering
Walt has played many roles over the past ten years. From Officer Welch in "Rumors" to Lord Bedford in "Henry V." He has played with Stowe Theatre Guild, Vermont Stage Company, Lost Nation Theater, Lamoille County Players, and UVM Productions. Film credits include "Pressure Point"; "Moving Targets"; "Automatism" and "The Pursuit of Happiness" and the recently released "Disappearances". Walt founded The Windjammer Restaurant and Best Western Hotel and Conference Center in South Burlington, VT.
Jeff Maclay
is a Free & Accepted Mason and currently a theatre major at Johnson State College. He has aspirations building a rocket entirely out of legos that can safely transport a live simian into the upper atmosphere, and enjoys his time on the stage like no other. He has worked with WFP before in "Rough Crossing" as Adam, as well as performing at JSC in "Big Love" (with Reed Brown directing) as Aeolus. This is his first time stage managing, however, and he has found the experience quite an adventure. He hopes to continue his career and work with WFP more in the future. Enjoy the show!
George Pierce
loves a good farce. A bit of a prankster, and long time teller of bad jokes, he can't wait to get this into rehearsal, and then hear the audiences react to this show. He promised Ginger he won't wear any of the costumes home.
Andrea Pray
is Vermont raised and a 19 year resident of Waterbury. She feels managing a restaurant gives her just the right background for working at the Tastee Bite. She takes pride in working with the public and being a mother of two beautiful beings, Lydia (9) and Ashton (7). Thank you Anthony for your support on this project.
Catherine Vigne
is from Monkton, Vermont. She has worked on many shows in many theaters, including the Goodspeed Opera House, North Shore Music Theater, and the Breadloaf School of English. Her previous designs include No End of Blame (PTP/NYC), The Five Hysterical Girls Theorem, In the Blood, In a Pig's Valise, and Vampire (Middlebury College). She was also associate designer on The Bewitched (Middlebury College), with which she traveled to Fitchburg, MA and the Kennedy Center in Washington, DC.