The Waterbury Festival Playhouse -- Central Vermont's only Semi-Professional Theater
Other People's Money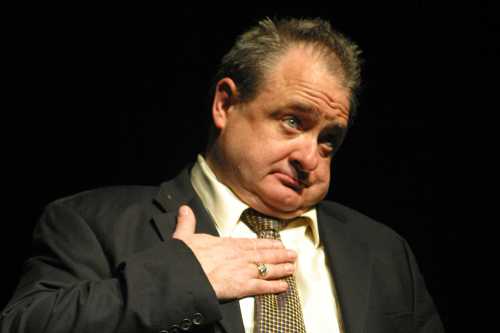 Directed by George Pierce
Written by Jerry Sterner
Produced by special arrangement with Samuel French
Shows (Evenings at 7:30pm):
Fri. 8/14 - Sat. 8/15, Wed. 8/19 - Sat. 8/22, Wed. 8/26 - Sat. 8/29




Wall Street takeover artist Lawrence Garfinkle's computer is going tilt over the under valued stock of New England Wire & Cable. If the stockholders back his take over, they will make a bundle but what will happen to the 1200 employees and the community when he liquidates the assets? Opposing the rapacious financier are the genial man who has run the company since the year one and his chief operations officer. They bring in a young lawyer who specializes in fending off takeovers. Should she use green mail? Find a white knight? Employ a shark repellent?

Although based in the world of modern finance, this story is more and exploration of greed and desire. Not so much of the characters but of you the members of the audience.

Don't miss the chance to enter the minds of those people who have done so much for our country so recently.

Winner of the Outer Critics Circle Award for Best Off Broadway Play.

"Funny, serious, suspenseful, involving, disturbing, and, above all, expertly crafted.... [with] both epic grandeur and intimate titillation."- N.Y. Magazine

"Very fine."-N.Y. Daily News

"It held me, amused me, charmed me."-N.Y. Post
The Cast

William Coles
Nellson Moore
Andrew Jorgenson
Brooke Pearson
Bea Sullivan
Ginger Pierce
Lawrence Garfinkle
Adam Cunningham
Kate Sullivan
Nicole Starrett

The Crew

Director
George Pierce
Asst. Director
Emily Hyman
Costumes
Catherine Vigne
Adam Cunningham
is enjoying a second life as an actor. After a decade-long retirement from the garretts and basements of off-off-off Broadway in NYC, he moved to Vermont and the bug returned. He's been seen at the Burlington Waterfront Theater in Glengarry Glen Ross and More; at Vermont Stage in True West; and in WFP's production last season of Wait Until Dark. He's also done some local film and TV commercials.
Emily Hyman
is going to be a senior theatre major at the University of Vermont and is somewhat terrified of entering the real world next year. Previous stage management credits include stage managing UVM's production of Eurydice last fall, and co-production stage managing the Festival of One Acts this past spring. She would like to thank her family, her wonderful roommates and best friends and her cat, Minnie, for all of their unconditional support.
Nellson Moore
is a Brooklyn, New York native now residing in Moretown, Vermont. Currently the host of Moore Music A-Z on WMRW-LP Warren 95.1FM, He is one third of the award winning vocal trio Black Tie. Nellson is deeply thankful for the support of his partner Jim and their 2 sons Ephraim & Thomas. Having performed in plays and musicals in his native New York, he is grateful for this opportunity to begin performing in his new home.
Brooke Pearson
is a fully recovered attorney who is thoroughly enjoying his second career as a teacher at Montpelier High School, where he mentors students in the school's Community Based Learning program and coaches Forensics and Boys' Tennis. Over the past 25 years, he has performed in numerous plays and musicals with Centerstage, Unadilla, and Lost Nation Theaters as well as the Barre Players. Summers invariably find him on stage somewhere in Central Vermont; throughout the year he sings in a choir and a barbershop quartet, State and Main. The father of a geologist daughter in St. Louis and a geologist son - and adorable 5 year old granddaughter - in Seattle, Brooke lives in Montpelier with his orange cat, Fred.
George Pierce
really likes this play. He was actually planning to open the theater with it three years ago. Maybe it just touches the businessman in him, or maybe because this play presents business as a contact sport with deep sexual undertones.
Ginger Pierce
whose given name is Virginia, and has a sister Elaine, may find The Clean House a little too close to home. A veteran of WFP she is looking forward to playing a part a little out of character in Other People's Money. She continues to enjoy operating the WFP with her loving husband George.
Nicole Starrett
who first became involved with WFP proudly represents Middletown, CT, and currently lives in the city that never sleeps. Past productions include The American Clock, Anton in Show Business, Threepenny Opera, and the Festival One Acts at UVM. When not attending theatre school at Circle in the Square (or sleeping), she is singing, writing, and finding magic everywhere with Chris.
Catherine Vigne
is from Monkton, Vermont. She has worked on many shows in many theaters, including the Goodspeed Opera House, North Shore Music Theater, and the Breadloaf School of English. Her previous designs include No End of Blame (PTP/NYC), The Five Hysterical Girls Theorem, In the Blood, In a Pig's Valise, and Vampire (Middlebury College). She was also associate designer on The Bewitched (Middlebury College), with which she traveled to Fitchburg, MA and the Kennedy Center in Washington, DC.