The Waterbury Festival Playhouse -- Central Vermont's only Semi-Professional Theater
The Sisters Rosensweig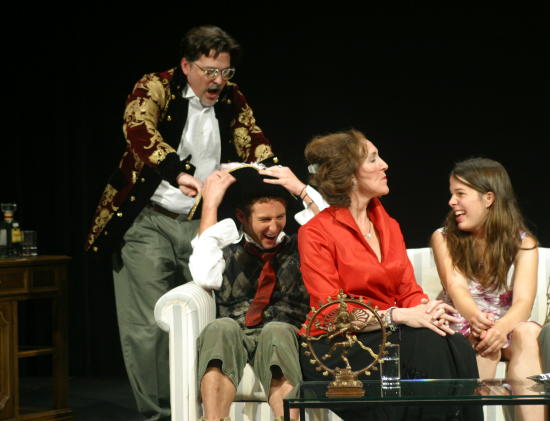 Directed by George Pierce
Written by Wendy Wasserstein
Produced by special arrangement with Dramatist Play Service
Shows (Evenings at 7:30pm, Matinees at 2:00pm):
Wed. 6/27 - Sat. 6/30, Thu. 7/5 - Sat. 7/7, Wed. 7/11 - Sat. 7/14
Matinee Sun. 7/8

Life is made up of cross roads, and today three very smart sisters with very different lives who haven't been under the same roof for quite some time are coming together. That special relationship that exists in siblings is imparted to this moment of their adult lives. Like most family reunions, there is a lot of laughter. Not, at jokes, but at the foibles that make up real lives and living. You'll laugh a lot at this show, because real life can be pretty funny, especially if it is someone else's. But, you will also take away from this theater experience a sense of possibility, at what your own life can become. There is always more life to live, and you never know what's possible.

Sara, Pfeni, and Gorgeous, the Rosensweig sisters, are here with the people in their lives, to offer you a look at your own life, and have fun doing it.

The Cast

Tess Goode
Sara Goode
Pfeni Rosensweig
Geoffrey Dunkin
Mervyn Kant
Gorgeous Teitelbaum
Tom Valiunus
Nicholas Pym

Caitlin LaBarge
Ginger Pierce
Janet Dufresne
James DeRienzo
Bob Carmody
Maggie Ferreira
Kyle Darling
David Lagala


The Crew

Director
Asst. Director
Costumes


George Pierce
Keelia Liptak
Ginger Pierce


Bob Carmody
has recently appeared as "Thor" in "Mornings at Seven" at Stowe theatre and prior to that as "Nonno" the 97 year old poet in "Night of the Iguana" with Shelburne Players. It does appear the trend is downward in age. Bob revels in that fact.
Kyle Darling
was born in Berlin, VT and lives in Northfield. His career so far include two movies and a commercial for Kinney Drugs which is currently running locally. His last stage appearance was in Quarrywork's "Diary of Anne Frank." He has taken Kempo karate since he was in the third grade and received his second degree black belt at age 15.
James DeRienzo
is very happy to return to the WFP for the second time. He studied acting at Mason Gross School of the Arts and Comedy Improvisation with the Groundlings in NYC. He has traveled extensively and enjoys the quiet life in the Green Mountain State. He is thrilled that the warm weather is finally here, which affords him the opportunity for an occasional stogie. He is lucky enough to have a beautiful wife, who tolerates his strange bios, and two fantastic sons who are chips off the block, in regards to theatre, not the cigars.
Janet Dufresne
was originally from Michigan and California, but has been a Vermonter for over 30 years, and works as a professional sign language interpreter. She's performed with Lyric, including a turn as a stripper, in Stowe, and most recently with the Shelburne Players in Tom Jones. Janet's favorite things are Lake Champlain and dancing Argentinean Tango.
Maggie Ferreira
is thrilled to be back on the WFP stage, Maggie proudly played Poppy in the WFP's first ever production of Noises Off. She's scratched her way through Cats as Grizzabella and played Janet in The Rocky Horror show. She lives peacefully in her new home in Woodbury VT with her awesome partner Drew, her crazy dachshund Hubbard and her best friend, her mom Carol from whom she learned everything about being "funsy".
"Why do Jewish men die before their wives? Because they want to."
Caitlin LaBarge
plans on attending Mount Holyoke College next year where she most definitely will be studying Theatre and Acting. Caitlin has appeared in the Shelburne Players production of Bus Stop as Elma, and Anne Frank with the Quarryworks Theatre Company. Caitlin's favorite color is red which fits her very well because like Tess she is a little spitfire, when she wants to be.
David Lagalla
has appeared in high school, college and community theater productions in New Jersey, Oregon and Vermont for over 40 years. He studied acting in New York City. Although he has never appeared in the movies or on television, he does like to watch both and he plays the radio quite well. He and his actress wife, Louise J. Mueller, are owned by three lovely cats.
Keelia Liptak
is a student at Harwood Union High School and has worked on shows there such as Into the Woods, the Wizard of Oz, Oklahoma!, Guys & Dolls, Songs for a New World, and most recently, Anyone Can Whistle. Her life consists of track + field, theater, music, family, and dogs, and often she thinks she will just sleep at school to save gas money. Keelia has been looking at colleges in New England this spring.
George Pierce
is glad to be just directing and not building the theater at the same time. Who better to direct a show about Jewish women than a white, protestant guy? Of course this show is really about family, but he was an only child. Well maybe the show is about life. He is having one of those.
Ginger Pierce
is happy to be returning to the Waterbury Festival Playhouse stage for it's second season. Last year she thoroughly enjoyed playing Dottie in "Noises Off." When not painting sets, costuming or learning lines, Ginger loves spending time with her kids, singing, watercolor painting, digging in the dirt, and hanging out with her husband.